Whispering Hope Lyrics
Soft as the voice of an angel,
Breathing a lesson unheard,
Hope with a gentle persuasion
Whispers her comforting word:
Wait till the darkness is over,
Wait till the tempest is done,
Hope for the sunshine tomorrow,
After the shower is gone.
Refrain:
Whispering hope, oh, how welcome thy voice,
Making my heart in its sorrow rejoice.
If, in the dusk of the twilight,
Dim be the region afar,
Will not the deepening darkness
Brighten the glimmering star?
Then when the night is upon us,
Why should the heart sink away?
When the dark midnight is over,
Watch for the breaking of day.
Hope, as an anchor so steadfast,
Rends the dark veil for the soul,
Whither the Master has entered,
Robbing the grave of its goal;
Come then, oh, come, glad fruition,
Come to my sad weary heart;
Come, O Thou blest hope of glory,
Never, oh, never depart.
For more hymn stories and lyrics click popular and old hymns history. Below are some must read posts on hymn history and lyrics.
Come Unto Me Ye Weary Hymn Story and Lyrics
There will be No Dark Valley Hymn Story and Lyrics
There Is a Gate That Stands Ajar Hymn Story and Lyrics
Whispering Hope Hymn Story
The author of Whispering Hope is Septimus Winner (1827 – 1902) who composed this under the pseudonym of Alice Hawthorne. It was published in 1868.
It is said that he never intended for this song to be turned into a religious song.
Septimus Winner was born in 1827 in Philadelphia, Pennsylvania. He taught himself music and ran a music store and taught people how to play various instruments.
He wrote several songs in his day which became popular. Some of his popular songs included, "Listen to the Mockingbird" (1855), "Where, Oh, Where Has My Little Dog Gone?" (1864) and "Ten Little Indians."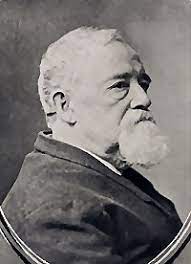 During the American Civil War, Septimus composed a song entitled, "Give Us Back Our Old Commander: Little Mac, The Peoples Pride". He aimed it as an appeal to President Abraham Lincoln to return Union General George McClellan to service.
Unfortunately, it was deemed anti-Union and in 182 Winner was jailed on a charge of treason. He was freed after he agreed to destroy all remaining copies of the song.
It is, however, this song that he never intended to be a religious song that we still remember him for. It has been included in many evangelical Christian hymnals.
Whispering Hope Hymn Video
In the video below Jim Reeves sings this beautiful hymn.