Anywhere with Jesus Lyrics
1 Anywhere with Jesus I can safely go;
Anywhere He leads me in this world below;
Anywhere without Him dearest joys would fade;
Anywhere with Jesus I am not afraid.
Refrain:
Anywhere! anywhere!
Fear I cannot know;
Anywhere with Jesus I can safely go.
2 Anywhere with Jesus I am not alone;
Other friends may fail me, He is still my own;
Though His hand may lead me over dreary ways,
Anywhere with Jesus is a house of praise. (Refrain)
3 Anywhere with Jesus I can go to sleep,
When the darkening shadows round about me creep;
Knowing I shall waken never more to roam,
Anywhere with Jesus will be home, sweet home. (Refrain)
Please find below more hymns lyrics and stories:
All Creatures of our God and King
Praise to the Lord, the Almighty the King of Creation
Anywhere with Jesus Hymn Score
For those who know how to read music, find below music sheet.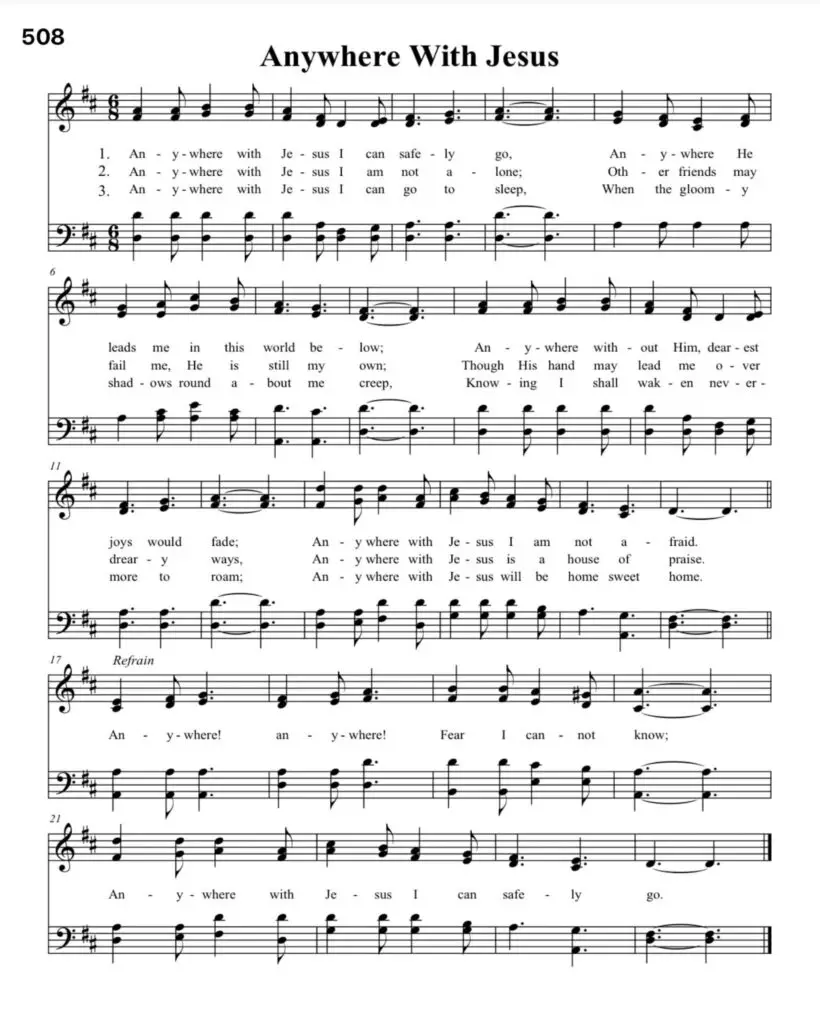 Anywhere with Jesus Hymn History
Anywhere with Jesus is a hymn whose words were written by two ladies, Jessie Brown Pounds, and Helen Alexander (nee Cadbury).
Stanzas 1, 2 and 5 were written by Jessie Pounds while stanzas 3 and 4 were written by Helen Cadbury.
The tune itself and the title came from Daniel Towner.
Daniel Towner was on evangelist Dwight L Moody team during some meetings in New York in 1866 when he came up with the idea of this song.
He had just heard Dwight Moody preaching a sermon on Christ being the captain of our lives.
Dwight Moody cited Biblical examples of three colleagues of Daniel in the fiery furnace and not being burned by the fire as they had the Son of Man, Christ, with them in the fiery furnace.
This he said is an example showing that with Christ as captain you can go anywhere.
He also cited the example of Daniel being thrown in the lions' den and not being attacked by them as angels shut down their mouths.
Daniel Towner was so impressed with this sermon that he thought it would be a wise idea to create a song around this sermon's topic.
He sat down and composed the tune.
He then sent the tune to Jessie Pounds asking her to help her with putting words to the hymn around the topic of anywhere with Jesus.
That is how we ended up with this song that continues to bless millions around the world.
Jessie Brown Pounds was born on 31st August 1861 in Ohio.
At the age of fifteen she began sending verses to newspapers and religious publications in his state.
J.H. Fillmore was so impressed with the verses that he wrote to her asking her to write some hymns suitable for church or Sunday School hymns.
She later married Rev. John E Pounds, the pastor of the Central Christian church in Indianapolis.
Helen Cadbury Alexander was born on 10th January 1877 in Birmingham, England.
His father was Richard Cadbury a prominent businessman and of the Cadbury chocolate fame.
She, however, decided to forgo all that and lived a simple life.
His first husband was Charles M Alexander, a song leader with evangelist R.A. Torrey.
She too joined Torrey's ministry and assisted them in the music part of the ministry during their travels.
Mr. Alexander passed away in 1920 and in 1924 she married Amsji C. Dixon. She is therefore sometimes known as Helen C. A. Dixon.
Below are more posts on hymns' lyrics and their stories: –
All Creatures of our God and King
Praise to the Lord, the Almighty the King of Creation
Anywhere with Jesus Hymn Video